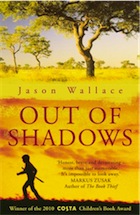 I love, love, love finding brand new books that captivate me; my excitement level rises even greater (four "loves"?) when the book is from a new author. Ready to head out to your local library or bookstore yet? Trust me: you just might be soon.
Markus Zusak, author of The Book Thief writes the only recommendation on the front or back cover. While the cover didn't captivate me, his words did: "Honest, brave, and devastating--more than just memorable. It's impossible to look away." Since I found The Book Thief to be starkly difficult and glaringly consuming as a read, I guessed that following Zusak's recommendation would serve me well. I was right, but greater, so was he.
This is a devastating read. The premise holds solid merit but the writing technique that Wallace uses made my mind hear a running dialogue with Robert, the main character, constantly. I wanted to hear what his brain was thinking in his days and nights of high school. Often in books like these, where the underdog gets smacked down for awhile and then joins in the smacking, I notice my hope for redemption diminish. With Robert, I was keenly aware of both compassion and disgust in his choices. Greater I thought about what I would do in his situation. While I wouldn't have made some of the same choices during much of the text, I applauded the ending, admiring Robert's resilience and determination, his utterly clear decision making, and his stoic if painful thought- processing. Of course I was a gigantic fan of Weekend, the phone operator for the village where Robert attends school in Zimbabwe, a gentle man who carries the truth of being as a source of glowing and hopeful light for all who encounter him and becomes a touchstone of truth for Robert. Conversely I grew to shudder whenever the antagonist Ivan entered the pages, from the beginning of the book to the very last word. The book is set in the mid-'80's when Mugabe is president, causing the escalation of long-simmering political and cultural tensions and hatred to boil over in a multitude of ways. It must have been an awful time to live there for blacks and white Zimbabweans.
This is a harsh read in which Wallace pulls no punches. Readers will encounter utterly ugly racism, wicked, brutal attacks, and Hitler-like hatred throughout the book. It is a painful read, where one witnesses bullying in impossible and true patterns. The spirit of resilience shares a fine if difficult to grab light here, but it is almost tangible nonetheless. Maybe it is the almost that kept me reading-- I still don't know. This is a YA book, but readers must know it is gruesome and painful to journey through it. I learned more about the dire and tragic pain of Zimbabwe in a direct and meaningful way, and the questions that rose repeatedly through my reading will likely create some significant web searches to expand my knowledge of that conflict found in Zimbabwe then. I know I will be on the lookout for new writings by Wallace: his form of writing captures my inner resources in an important way for me.
At the end of a staggeringly difficult conversation with my mother in my early adult life, she reminded me how in spite of my bad experiences, there are good men in the world. Wallace brings that truth to life in Out of Shadows. We all live through tremendous trials in life, but finding our own way to soften our inner blame and lift up what serves the world helps shine light on our humanity and vulnerability and helps us find community in the harsh moments of our isolation.