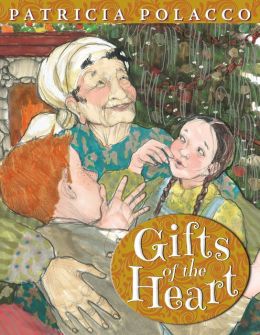 I love this new gem from Polacco. If the book flap is accurate, Gifts of the Heart may just be Polacco's dream alter-ego.
I don't know why the illustrations in the opening of this book so caught me, but I love the drawing of the Model A driving up to the old farmhouse. The color of the snow is just right and makes the drab wintery houses, lacking most color, stand stark on the page. Polacco's mastery shines bright in scenes she paints at nighttime too....I just love her work! Kay Lamity shines at the center of this story, bringing good tidings and joyful celebrations to a family dealing with hurting hearts. Richie and Trisha, the common characters in her books, lead us into their struggles honestly. I too have a red-headed older brother, and I know well the trials of being led through life with them at the helm. Okay, I know the humor too....and Richie always brings his own way of being to Trisha and in this book, their grandfather.
I can almost hear Kay Laminity in the story, cackling her lovely way of being all over the days and nights of a family experiencing a deep winter in their lives. Check it out and see what you think; see if you hear someone's voice singing true through this one.