Looking for a terrific read aloud for your youngsters? An engaging read aloud with a small mystery and a little math for yourself? This new book might capture your attention....it sure did mine and my students! This big gem has been around for a bit, published in 2006, but it was perfect for my class. We have been in the midst of a giant study on penguins. Students are working on their own nonfiction penguin research. This fiction book offered the flavor of a tall tale as additional possibility for many of my students.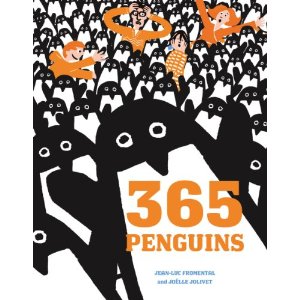 Fun, funny, with some tough math tossed in to complicate matters in a perfectly penguin way.
The pictures are rich, the pages giagantic, and the colors perfect. Even from our distance, I want to read the book again!
A worthy read for a variety of purposes, I encourage you to seek 365 Penguins out. It is perfect!