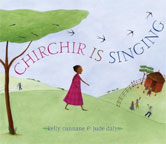 Here is another sweet goody I came across in the library recently.Just one look at the cover is enough to draw most of us in-- Jude Daly offers such sweet illustrations there it is hard to not pick it up. Open to the first pages and you'll be done: you have to read this.
The familiar storyline of a young girl struggling to find her way to help the family only intrigued me more. I mean there are as many possibilities with this goal as there are girls. The young main character Chirchir takes us through her moments of struggle and the many openings of possibility she encounters as she moves from family member to family member in her search. But like in all amazing books that transport us into new worlds, it is the masterful work of the author and illustrator combined that take this book to new heights. I love how the author frames each page, making me curious to learn how and what Chirchir is thinking and exploring her own way into the people who are important to her. The gentle meandering of her day within the book offer a window into the lives of people in the Kalenjin tribe of Kenya, where the book is set, and occasional Swahili words are used along with Kalenjin names. Fascinating! The illustrations took me even further into what it must look like and FEEL like there in Chirchir's homeland. Daly, the illustrator, captures movement on the page with such grace and conviction. The actual angle that is just right, so much so that I can imagine young readers eagerly trying out her techniques on their own.
This is a brilliant and beautiful book, one that I am eager to use in my teaching and working with young people. Hmmmmmm, the perfect quandry: how to share this with more readers.....